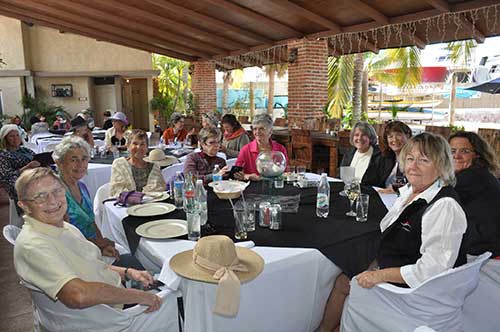 2016 Charity Fashion Show
On January 9, 2016 Club Cruceros held their first Charity Fashion Show and to our wonder it was a huge success!
When we first started to put this event together we dreamed of maybe 40 attendees, 93 ladies enjoyed the day with us! A delicious luncheon was served to all by Marta and her Crew at La Costa restaurant.
We had 14 models who wore three ensembles each, the clothing was graciously provided by "Gaby's" a local "gently worn clothing Boutique". The day of trying on clothing was a fun filled time of giggling first time models picking out their favorites and them making sure they fit. Each model accessorized their own outfit. Finding enough fancy shoes was a little tricky but the Ladies rose to the occasion and every one of them looked glamorous as they sashayed down the runway.
Everyone was encouraged to wear hats and scarves and many came adorned in colorful plumage to brighten up the event.
During the intermission a slide presentation was shown with pictures of all the happy faces of the children our club was able to give to this past holiday season. The show was met with ohhhs and ahhhs as the children are adorable and the mommy hearts in all of us melted.
After expenses the Club made a profit of 8,000 pesos for our charity account, we are already planning on how to spend that money in the best way possible.
Click here to see the types of charities the club supports
And here to view the photos of the event in the Club Cruceros photo gallery.