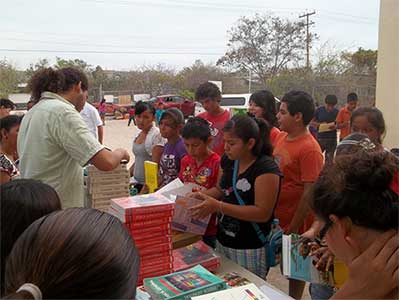 FANLAP
Fundación Ayuda Niños La Paz, A.C. (FANLAP) is a nonprofit whose mission is to provide basic support of food and education for children and adolescents from impoverished areas to give them the opportunity to complete their education and improve the quality of their lives. FANLAP achieves its goals by granting scholarships, offering a free meal program, and providing a library for the children of La Paz.
Background
La Paz, the capitol of the state of Baja California Sur, is a beautiful, quiet city located on the Sea of Cortez 900 driving miles south of San Diego. Until the highway was completed in the 1970s, La Paz was a sleepy fishing village, with few visitors other than fishermen and those with private airplanes. Then things began to change.
During the 70s and 80s, a building boom began in La Paz and other parts of Baja California Sur, and workmen poured into the area from the mainland of Mexico, bringing their wives and children. Many men worked on short-lived construction jobs, and not finding other employment, returned to their birthplaces, leaving their wives and children behind to fend for themselves. Others, who stayed in La Paz, often were not able to find full time jobs and couldn't support their families.
Our Programs
By involving mothers of the neighborhood, governmental agencies, local Rotary clubs, local businesses and our volunteers, ours is truly a community effort. A few people are changing the lives of residents in impoverished neighborhoods  on the outskirts of La Paz. When given proper nutrition the students feel more motivated to apply themselves in school. When given the opportunity to attend school past the sixth grade, students often do better than "advantaged" students. Read about our individual programs by clicking the following links:
Donations
Tax deductible donations may be made payable to:
International Community Foundation
2505 N Avenue
National City, CA 91950
Please put "Children of La Paz" on the lower left-hand corner of your check.
FANLAP relies heavily on  private donations from individuals. We don't have fancy buildings, paid executives,  or expensive fundraisers, just the basics and  generosity of  many  volunteers.  The more we raise, the more students we can help.
Thank you so much for helping FANLAP help families in La Paz Mexico! 
For more information click here to contact FANLAP.