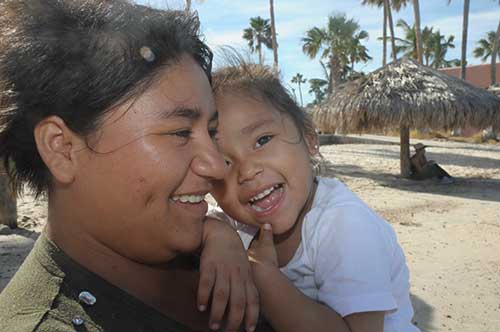 Albergue (Hostel) Mamá Benita's
A Local Mexican woman, Benita Sabine Morales has opened her personal home to others with no home or family of their own. On an average day she feeds, 28-35 people, mostly children. Whether these individuals are there with a parent or not, for all of these people, Benita is Mama Benita. She also cares for several adults, men and women, some with handicaps, Alzheimer's or other disabilities who have no other place to go for a safe place to sleep at night or a good meal in their belly.
Mama Benita's is a registered business in La Paz, however she gets little to no assistance from the government services.
Improvements to the house and facilities both major and minor have been done by small groups, organizations and individuals, such as Club Cruceros. They now have a tile floor (rather than broken concrete), actual kitchen facilities complete with a cooking sink and a cleaning sink, a working stove and a permanent shade structure.
An adjoining building was utilized as a dormitory for the children and one for the women, complete with bathroom and shower facilities. Now everyone has a bed to sleep in at night - no more blankets on the hard floor.
The children all attend school and are doing very well. Several of the adults, who now feel safe and secure are also attending school working towards their GED certifications. They are becoming helpful members of the household by learning a skill or resource for the future. Benita has several projects in place for education and gaining skills to be on their own. Everyone in the house has at least one chore to contribute to the good of the house. Even the little ones are taught responsibilities.
The list of improvements and upgrades to the facilities will always be present and changing. Work parties to fix electrical issues, plumbing, building structure and improvements are needed. Craft, sewing, art, reading, game playing are also a nice diversion and welcomed by the residents young and old.
As in any household monthly needs include food, paying the bills for water, electricity, propane for cooking and hot water for bathing, garbage pick-up, cleaning supplies – laundry soap, dish soap, personal grooming products, sanitary supplies for the women, diapers when little ones are present, toilet paper,- cooking supplies and keeping minutes on Benita's phone for emergency contact.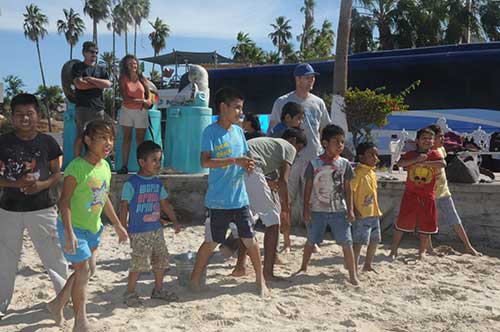 The children are a joy to be around and never complain or whine - about anything. They are happy and greet you with a smile, a handshake and a hug. Benita has shown them love and security of her hugs and home, and it shines off of them.
From time to time a group is put together to take the children to local parks, beaches and ranchos where they are allowed to play and have a good time. Extra transportation is always needed for these events.
Please show your support with a donation, an idea, a few hours of labor, or a bag of food to help keep Mama Benita and her 'family' going in the right direction.

Your donations to the Club Cruceros Charity Fund will help this worthwhile organization.