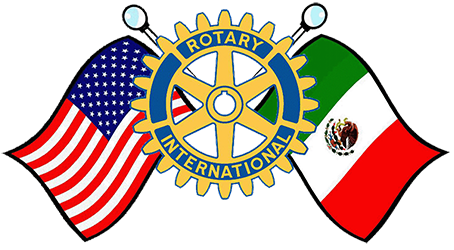 Rotary (Club Rotario de La Bahia de La Paz)
Rotary has 34,000 clubs around the world and works in 8 languages. We are neighbors, community leaders, and global citizens uniting for the common good. Our local Club Rotario de La Bahia de La Paz is a group of 24 people; 12 women,12 men and open to all at any time to any meeting or project.
We have done the following projects this year:
Get from Canada, and give to every fire department in B.C.S. new or very good used turn out uniforms. 155 total.
Get grants from sister clubs in America to rebuild the wood shop at Alburge Creacion, where kids are taken with the shirts on their backs when their parents are arrested for narcotics violations.
We also built using totally cruiser labor, a 70 by 15 foot screened in area for babies and staff.
At Diana Laura Primary School we got all 35 graduating kids into middle school (secondaria), put the kitchen in a Comodore the city built, and gave the school 20 brand new computers with software, causing the city to build a computer room and hire a teacher for same.
We are now facilitating the FUBAR people sending us 100 used laptops. We get them in San Diego, get them crossed la lina then shipped down here then distributed to 50 rural CONAFE Schools, and 16 SEP Alburges.
And we will do the Christmas gifts again at the remote mountain Alburges, and at Creacion, where the quilters group this year made 46 different cloth bags for the kids and filled them with tooth brushes paste hair brushes etc.
With you, we can accomplish even more.
Click to donate to the local La Paz Rotary Club with your PayPal account.
If you are in La Paz and would like to donate time, goods or money please contact Bob Walker on S/V Cactus via VHF channel 22.
---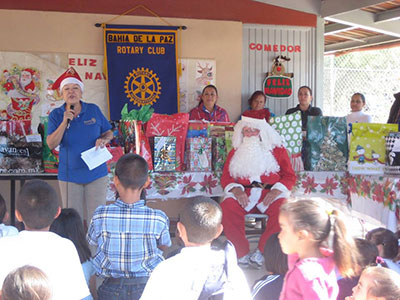 From the La Paz Rotary, December 2014:

La Soledad is the albergue or rural school north of La Paz. Nuevo Creacion is the shelter outside of town for kids whose parents are in jail on drug charges. Club Rotario Bahia de La Paz supports both of these with Christmas gifts. Both of these charities have been heavily supported by Club Cruceros this past month. Hooray for the cruising community in La Paz! This is a group with a big heart. Thanks to all from Rotary Bahia de La Paz. Prospero ano nuevo! Click here to see more photos!
---
Click here for some great photos and an explanation of the 2015 Christmas event.
And here for the 2016 "Letters to Santa" with the kids in La Soledad.