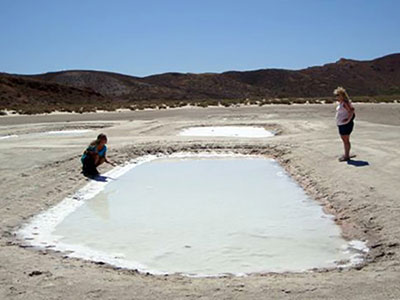 Park Passes
Park passes are required by CONANP to anchor and to go ashore at the islands of Espíritu Santo & Partida north of La Paz.
Yearly passes (passports) and day passes (bracelets) are available for purchase. You may be stopped by a Park Ranger and asked to show your pass. If you do not have one you may purchase one at that time. Everyone who is not a local citizen or permanent resident able to show a local voter's ID card or drivers license are required to pay. La Paz residents are required to have a park pass for the parks outside the Espíritu Santo national Park.
The 2017 cost is 64 pesos per bracelet per day and 334 pesos for the annual passport. The handicapped and children under 6 years old are not required to obtain a pass.
To Purchase a Pass
At the La Paz CONANP Office located a couple of blocks from the Singlar Marina near Grill Campestre on the other side of the "Abasolo" which becomes Avenida Constituyentes.
Passes may also be obtained from the Whale Museum on the Malecón at 16th of September from 10 am to 6 pm Tuesday through Sunday.
According to CONANP you may obtain passes on line at the SEMARNAT website but knowledge of Spanish will be necessary.
Upon receipt of your pass you will be given a brochure outlining the regulations and no anchor zones within the park system. For more information about the rules and regulations in the Espíritu Santo Archipelago National Park and an on line map of the anchoring zones see our Islands page.