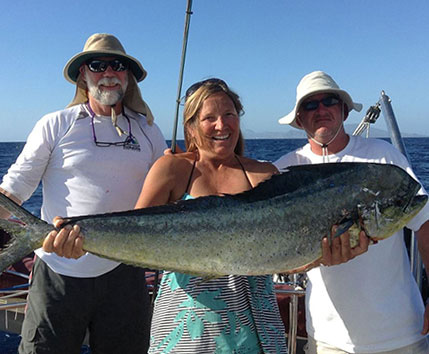 Fishing Licenses & Rules
Anyone fishing on a boat in Mexico needs a fishing license and here's how.
On Line
Fill in the online form at Baja Sur Sportfishing. It's in English and it's easy.  It is a Baja California Sur State page but the fishing licenses that are issued are federal and good for all Mexican waters. Once you have completed the form and paid just print the license and carry it with you.
In the US
While in San Diego you can easily obtain a license at the Mexico Fisheries Department located at:
2550 Fifth Ave, Suite 15, San Diego, CA 92103
619-308-9926
info@consulmexsd.org
http://pescadeportivaenmexico.sectur.gob.mx/en
Fishing License Rates
Due to the exchange rate the cost of a fishing license is roughly as follows:
One day license $9.50 USD per person
One week license $18.50 USD per person
One month license $26 USD per person
One Year license $34 USD per person
Limits & Rules
The license allows you to catch a certain number of species per day as determined through a point system. Each licensed person is entitled to fish up to 10 points per day.
 Billfish (marlin, sailfish, swordfish) equal 5 points* each
Dorado and roosterfish equal 2.5 points* each
Other species equal 1 point* per specimen
*You cannot catch more than 5 points of the same species per day
There is no limit to the practice of "catch and release" as long as the fish is returned in good survivable condition.
Limit on inland bodies of water (rivers, lakes, etc.) is five fish per day, whether of a single species or in combination.
Underwater fishing is limited to five fish per day, using rubber band or spring type harpoons, and only while skin diving.
Where sport fishing is conducted from boats out at sea for longer that three days, the bag limit is three times the amounts above.
A fishing license allows the capture of only fin fish. It does not allow capture of any mollusks or crustaceans, and their capture by anyone is strictly prohibited. Totuava, turtles and marine mammals are under protection of the Ministry and may not be captured at any time.
It is prohibited to collect shells, corals, sea anemones, and snails, or to disturb the original ecosystem environment.
Mexico is encouraging a catch and release campaign which includes the captureing of only one billfish per boat, per day. Help preserve the species and support this campaign.