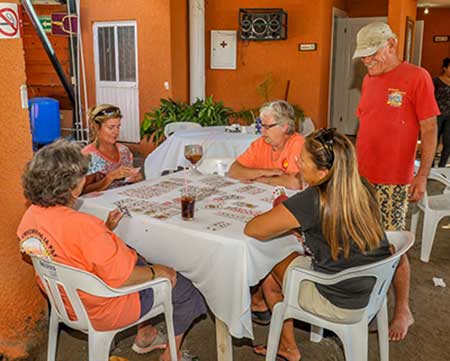 Groups & Activities
All activities are open to everyone. If you need instruction people are there to help you learn. These activities are generally not put on by Club Cruceros but by cruisers. Bearing this in mind, the schedule is subject to change because cruisers leave and then return. Some activities are seasonal. Check with the individuals listed below to see if the event is still on or listen to the morning net on VHF Channel 22 for further event announcements.
Art & Painting: Contact Roger on Channel 22 "Avalon La Paz"
Beading, Crafts & Jewelry: Wednesdays 2 - 4 pm, Vista Room, contact Sandy on Channel 22 "Masquerade"
Mexican Train Dominoes: Mondays at noon, La Costa Restaurant, Click here for Dominoes Rules
Line Dancing: Wednesdays & Saturdays, 10:00 – noon, Vista Room.
Quilting: Tuesdays, 10 am - 4 pm , Vista Room, contact Teri on "U'Lalena"
Yoga with Annie: Monday thru Friday 8:30 am, Vista Room, call "Anne (Annie)" on Channel 22
Baja Rummy: Wednesdays and Saturdays Noon, La Costa Restaurant, click here for Baja Rummy Rules
Darts: Fridays, 7 pm, La Costa Restaurant, contact Bill on "Wandering Puffin" click here for Dart Rules
Tennis, a book club, aquacise, and zumba are some other popular activities you may be interested in. Ask on the morning net for details.
The sailing club Veleros de Baja puts on sailboat races out of La Paz. Click here for more information.
For listings of more local events try Roz in La Paz or the BajaInsider.