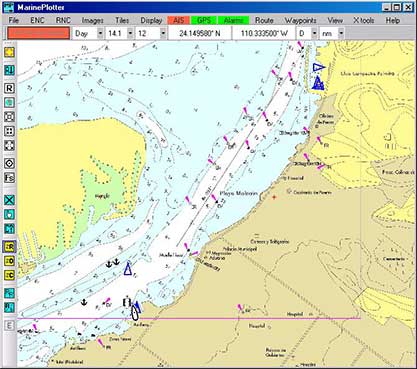 DJM Questor Navigation Software
Nautical chart and image plotting aid
Click here to download MECS. MECS is a Universal Windows Platform Application. MECS displays tilesets and tile-cache based images.
Click here to download MarinePlotter. MarinePlotter is a Windows Laptop and Desktop Application. The MarinePlotter displays Electronic Nautical Charts (ENC), Electronic Nautical Charts (ENC), Raster Nautical Charts (RNC), and Geo-referenced images (IMG) as charts. The program supports the creation and display of Mariner's Cruising Guides (MCG) vector charts, Nautical Chart Image (NCI) tiles, and Nautical Chart Vector (NCV) tiles. The program can also display optional tile based satellite images, waypoint locations and routes. It can display multiple semi-transparent charts over the tile base images. The program accepts NMEA GPS sentences from most GPS receivers that connect to a USB port. The program also accepts NMEA AIS sentences from most AIS receivers connected to the USB port.
Questor software comes with download and installation instructions as well as free tutorial videos. The developer is constantly updating with the latest features and welcomes your feedback.
All software is free of charge, does not collect information from your computer, and is free of malicious content.
Software provided by
David
s/v Questor