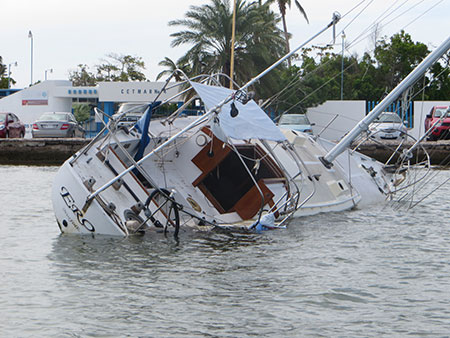 Hurricane Preparation Seminar
What My Boat Did While I Was On Summer Vacation:
Adventures In Leaving Your Boat While You Escape The Heat
From a Club Cruceros 2013 Seminar - by Dennis & Susan Ross
When Does "Summer in the Sea" Begin?
Where is My Boat Safest — Baja Vs. Mainland vs. Hurricane Hole?
Preparation of the Boat - It Pays to Plan Ahead
Remove Sails, Dodgers, Biminis, and Other Windage
Tie Down Everything!
Extra Lines, Chafe Gear, and Fenders
Fuel and Water (Including Watermakers)
Close Thru Hull Fittings—Except Cockpit/Deck Drains
Ports/Hatches/Dorades/Vents
Lighting and Electrical/Electronics
Bilge Pumps and Alarms
Engines, Generators, Pumps, and Impellers
Halyards and Lines Aloft
Wind Generators and Solar Panels
Outboards, Dinghies/Tenders, and Kayaks
Preparation of the Crew and Belongings
Interior Temperatures Can Be Over 100°F (150°F On The Hard)
Important Papers—Originals/Copies -- Ashore or Digital Vault
Mask/Snorkel/Foul Weather Gear
Medications and Perishable Provisions
Flammables and Propellants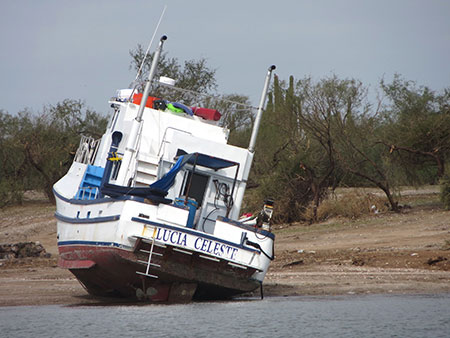 Anchor vs. Marina Berth vs. Hauling Out
Anchoring Issues
Ground Tackle
Security
My Boat Was Fine—It Was The Unattended Boat That Hit Me.
Unsupported Supposition—Many (Most?) Boats Left Unattended At Anchor Will Have Problems (Ask Anyone In Puerto Escondido.)
Bail-Out Plan
Pets
Marina Berth Issues
Advance Reservations and Back-Up Plans
Who's Watching My Boat?
Fenders, Lines, and Chafe Gear
Marina Readiness and Coordination With The Marina Staff
Who's Next To You and Are They Ready As Well?
To Stay Aboard Or Not To Stay Aboard
Dry Storage Issues
Making Advance Reservations for Haul Out
Yard Readiness and Coordination With The Yard
Securing The Stands
Dirt Or Concrete?
Who's Watching My Boat?
Rain = Interior Flooding (LEAVE YOUR BILGE PUMPS ACTIVE!)
Who Is Going To Pick Up My Boat When It Falls Over?
Back-Up Plan If The Yard Cannot Haul Your Boat
Storm, What Storm? - Where To Find Information While "Up North"
I'm Insured So I'm Not Worried
(Assuming You Have More Than Liability Insurance)
Read Your Policy—Including The Fine Print
Remember The Terms "Acts of God" and "Named Storm"
The Other Guy's Insurance Covers His Boat—Not Yours!
The Marina's/Yard's Insurance Covers Them—Not Your Boat
Take Pictures Of Boat Exterior, Interior, and Expensive Equipment
List Of Equipment and Gear
Recent Marine Survey
Policy In Safe Place
Coming Home
The Race Against The Storm—Can I Get Back Before The Storm Hits?
Driving – Check Road Conditions Before You Start
Flying – Many Flights Are Canceled or Diverted With Hurricane Threats.
Burro – May Be The Only Choice So Reserve Early
Visiting Hours—When Can I Get To My Boat? (i.e. Jimena 2009 in San Carlos)
Repair and Recovery Issues
Securing The Boat Against Theft and Further Damage
Do-It-Yourself Or Authorization For Someone To Act On Your Behalf?
Pre-Arranged Haul-Out For Repairs
Photographs, Videos, Documentation, and Damage Surveys
Miscellaneous Tips
Duct Tape and Blue Tape – Be Careful -- Glue Hardens and Color Bleeds
Fuel Stabilizers
Storage of Outboards and Gas Generators
Flexible Vane Impellers
"Hurricane Plan" – See Attached
Resources
The following is a Heavy Weather Plan that has been accepted by several insurance underwriters who asked for a "hurricane plan." Feel free to plagiarize/modify as desired to meet your needs.
Heavy Weather Plan
Planning Phase
Check weather on hourly basis if named storm is predicted for general cruising area
If feasible, make arrangements to move inland as far as possible to reduce exposure to wind and storm surge
Find a location protected from direct wind and wave action if possible
If available, locate in a basin or harbor with quality docks and breakwaters
Consider negotiating a Hurricane Haul-Out Storage Agreement to reserve a protected location in advance
Charge all rechargeable flashlights and handheld communication devices
Top off fuel and water tanks 24 hours prior to storm, if possible, and remove diesel and gas jerry jugs from rail mounts
Securing the Boat
Batten down all hatches and ports to protect interior
Utilize spring, bow, stern, and breast lines as appropriate with proper slack and leads
Double up all lines and place extra fenders
Protect lines w/neoprene or fire hose at chafing points
Clear cockpit drains and bilges
Check batteries and primary and secondary bilge pumps and set to auto
Close all non-essential through hull fittings
Stow or secure all loose articles
If at anchor or mooring, set all available anchors with additional chafe gear and snubbers
Dive anchors and or moorings, if safe to do so, to assure they are secure
Obtain extra lines, fenders, chafe guards as necessary
Remove Vulnerable Equipment and Important Documents:
Remove sails and secure booms with extra lines to provide additional support
Consider removing canvas covers, dodger, bimini tops, BBQ, and other non-permanently attached items to streamline the vessel's profile and minimize wind damage
Secure tender on davits with additional lines or secure tender on board or remove to shore, as feasible
Secure or cover exterior electronics and other items that may attract thieves and vandals following the storm. Consider removing interior electronics if vessel will be inaccessible for several days
Remove personal valuables (i.e. jewelry, computers, etc.) from vessel, if possible
Remove vessel documentation, logs, insurance policies, and other important papers