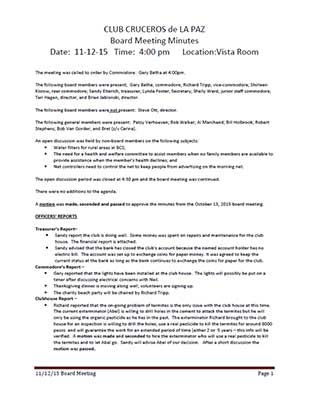 Board and General Meeting Minutes
Check this page monthly for the most up to date minutes from the Board Meetings and the General Membership Meetings.
Board Meetings are generally held at 4 pm on the second Tuesday of every month from October through May in the Vista Room at Marina de La Paz. They are open to the public. Members may speak to the board before the meeting is called to order. During the meeting members may not enter into the discussions due to time constraints.
General Membership Meetings are typically the third Tuesday of every month October through May. Meetings are at 4 pm and usually at La Costa Restaurant.
Listen to the morning VHF Net on channel 22 at 8 am for the most up to date information regarding time and place of these meetings.
Board Meeting Minutes
2017-2018 Season
2016-2017 Season
2015-2016 Season
General Membership Meeting Minutes
2017-2018 Season
2016-2017 Season
2015-2016 Season