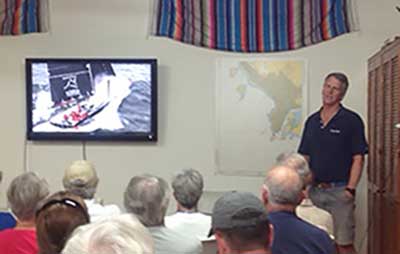 The Vista Room
Located above the showers at Marina de La Paz The Vista Room is owned by Marina de La Paz and operated by Club Cruceros. The room is available to marina guests, groups consisting of primarily club members, individual club members, marina management, and groups that have a program of general interest to the club membership. The Club Cruceros board has the right of final approval for room use.
There is no charge for the use of the room, but a cleaning/damage deposit may be required. Reservations are on a first come basis. To reserve the Vista Room contact the Vista Room Committee Chair or any Board Member for assistance.
Smoking and pets are not allowed in the Vista Room
Any person or group using the facility must have a designated responsible person who will guarantee the facility is used properly
All chairs, tables or other items used in the room must be wiped down if soiled and stored in their original location. Please help us to deter the ants and sweep or wipe up any food particles or crumbs
Persons or groups using the facility may not collect fees, donations, or gratuities from the attendees
The audio and visual equipment and all furnishings are owned and maintained by Club Cruceros. Please return them in the condition you found them and report any problems.