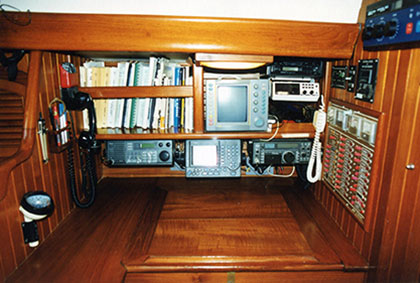 Cruisers
Staying
In Touch
In the past the VHF, Ham and SSB radios have been the tried and true method of cruisers communication. With the advent of the cell phone and sat phone things have changed significantly. Which is the more useful? That depends very much on your preferences, your personal style, your budget, and what you intend to do with it.
VHF Radio
For short range the VHF is the basic communication method and is used throughout the Sea of Cortez and in La Paz as the primary source of communication. See our VHF Procedures page for some valuable information regarding etiquette and proper use of the VHF in Mexico and in La Paz.
Cell Phones
Communications and weather information are easily obtained with a cell phone, but unfortunately there are some places cell coverage is non-existent. When you arrive in Mexico go to a Telcel office in Cabo or La Paz and obtain a Mexican sim card for your unlocked US cellphone. Then add an Amigo Plan and pay for as much phone and data as you want. 3 GB of data and phone service costs about $25 per month. If it runs out just buy more.
Satellite Phones
Sat phone technology  is a point-to-point technology based on satellites. Just like a cell phone, you talk to (and only to) the person you're calling or who has called you. Other boats and shore-based stations cannot hear you. Sat  phones are very useful for personal and business  calls, for downloading weather files and sending  email . But they aren't  cheap  to use. Every time you connect you are paying for  service. The cost of sat phone  service  varies a lot, depending on your plan and on the amount of use. The average expense reported by cruisers runs $75 to $125 per month. Not inconsequential for a cruiser on a budget. Many sat phones have limited coverage and power  consumption  can be an issue.
High Frequency Radio
HF radio (SSB or Ham)  is a two-way long-distance  communications  technology using  radio  waves, broadcast from your  antenna. Anyone can listen and participate. It is extremely useful for keeping in touch with other boats, getting  weather  forecasts and broadcasts, participating in the various maritime nets, making  phone  calls through a  marine  radio operator, just listening to other boats and  boating  news, and sending/receiving  email. It is also a valuable  safety  technology and is still much used by the cruising community. To use HF radio effectively you must learn some things, and this takes time and patience. You can't just walk up to a HF radio installation and expect to use it effectively. The HF receiver (Sony, Grundig, etc.) can be used to listen to the nets or hooked up to receive weather files on your  laptop  or  iPad  for a low cost alternative. See our Ham & SSB Nets page for information about the radio nets in our area. Need a ham license? Ham Radio License Exams are administered in La Paz twice a year. Click here for more information.
Delorme inReach
The inReach is a very handy tool for cruisers and offers many advantages for those who want to stay connected. The weather feature allows you to request weather for your location or a location you request, you can text with home and friends from anywhere in the world, there is a map share feature showing your location 24/7 and an SOS button that sends a message for immediate help from medical or any emergency responder. It is inexpensive to purchase and monthly plans range from $10 to $100 with an average of $25 per month with 40 text messages included.
EPIRB or Personal Locater Beacon
An EPIRB or PLB should still be your primary tool for distress signaling on offshore passages. PLBs work in exactly the same way as EPIRBs by sending a coded message on the satellite system. PLBs will transmit for 24 hours while an EPIRB is at least double. An EPIRB is registered to a vessel and a PLB is registered to a person.