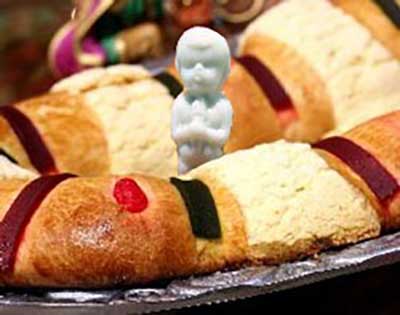 Three Kings Day and Día de la Candelaria
Annually on
January 6 and
February 2
January the 6th is a special day in Mexico. Known as El Dia de Reyes (Three Kings Day), this holiday represents the height of the Christmas season. The date marks the culmination of the twelve days of Christmas and commemorates the three wise men who traveled from afar, bearing gifts for the infant baby Jesus. The children of Mexico in particular look forward to this holiday as traditionally, gifts are exchanged on this date, not on Christmas day.
Club Cruceros honors the tradition of Three Kings Day at our morning coffee hour at the clubhouse with rosca sweet bread (Rosca de Reyes). The sweet bread has figurines of a baby (representing the Child Jesus) hidden inside. If your piece of sweet bread has a figurine in it you are invited to help serve on Día de la Candelaria.
 Día de la Candelaria  is known as Candlemas in English, because candles were brought to the church to be blessed. Traditionally it is the day Jesus was baptized. The person (or people) who received the figurines on Kings Day are supposed to host the party on Candlemas Day.  Tamales  are the traditional food of choice.
At Club Cruceros Dia de la Candelaria is celebrated during the morning coffee hour. The club provides the tamales and Champurrado  ( a hot thick Mexican drink made of corn masa and chocolate). Those who found figurines in their sweet bread are your servers.
Join us in our show of respect for these Mexican traditions of eating together and sharing during the holiday season.
See you there next year!
Listen to the morning VHF net at 8 am on channel 22 for up to date information just prior to the event.