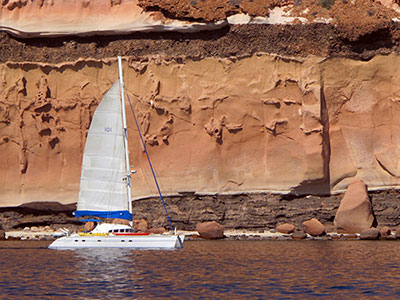 Cruising in La Paz and the Sea of Cortez
The La Paz Port Captain and the Mexican Navy have asked the cruising community to comply with the Mexican laws. From courtesy flags to proper lights to paperwork we all must make a concentrated effort to be courteous guests in their country.
Closed Port
Often during adverse conditions the Port Captain will close the port of La Paz. If you leave La Paz while the port is closed you could be fined as much as $5,000 USD. If you are outside the port you are allowed to enter if for safety reasons. To determine if the port is closed call the Port Captain on VHF channel 16.
Mexican Courtesy Flag
Foreign vessels must fly a Mexican courtesy flag at all times. Show respect and insure your flag is in good condition.
Anchoring
Visit our Anchoring in La Paz page for more information on regulations and anchoring zones in the Bay of La Paz. There are restricted anchor zones out at the islands as well. They are outlined on the Espíritu Santo Archipelago National Park page. The inner area of Bahia Ballandra is restricted and marked by white buoys.
While anchored you are required to maintain a proper anchor light.
Paperwork
If La Paz is your first port of entry in Mexico you will be required to check into the country.

No paperwork is necessary to leave and enter the port of La Paz after your initial check in but you do need to call the Port Captain on channel 16 and report your vessels movement.

All vessels are required to have a Temporary Import Permit (TIP) no matter how long you intend to stay in the country.
If you are at anchor in La Paz you will need to pay an anchor fee to API.
A park pass is required to visit the islands.
A fishing license may be obtained on line here.