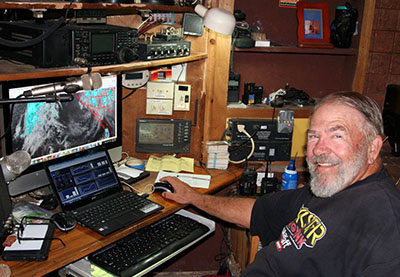 Ham & SSB Nets
It doesn't matter if you are a ham or not the nets are fun to listen to and fun to keep up with friends. More importantly they are a wealth of knowledge. When you are up in the Sea of Cortez sometimes there is no other method of communication and no other way of obtaining weather. Listen in... you will get hooked!
Net Schedule
Dockside Radio Mexico Cruising Nets is a frequently updated source for local net schedules.
Popular Baja Nets
Sonrisa Net - You need a Ham Radio License to check in but anyone may listen
Amigo Net - Morning SSB Net, no license required to participate
Net Protocols
There are protocols that net controllers request be observed for several reasons that are mentioned below. Each of the nets will first ask "Is there any emergency, medical or priority traffic, please call now!" If not, then the daily net controller will follow the guidelines contributed by Bob Davis below.
Sonrisa Net Check In Protocol
When the Net Controller puts out a call for vessels who wish to check into the Sonrisa Net, first just provide your Ham Call Suffix - the last three letters of your Ham Call Sign (example- in my case CBF, as my full call sign is KJ6CBF). The controller will compile a list of vessels wishing to check in and then go down the list and invite Check-ins one by one. When asked by your suffix to come ahead with your Check in, it is requested that you provide:
Your full ham call sign
Your vessel name
First names of the people on board
Your current location in Lat/Long degrees and minutes only (unless anchored in a well known location such as Turtle Bay which will suffice)
If underway, your point of departure and your destination, present course and speed
A brief description of the weather at your current position - wind direction and velocity, sea state, sky conditions (clear, clouds, fog, raining, etc.)
Upon completing your check-in, the controller will normally ask if you have "traffic" for any other vessel. If you do, tell the controller you have traffic for vessel "Ump Tee Ump". If the vessel you are hailing is on frequency, the controller will put the two vessels together to pass brief traffic. If you wish to have a longer conversation, it is requested that you either (1) reserve the Sonrisa frequency for a follow up conversation after the net is concluded for the day, or pick another frequency and time for the two vessels to get together via radio.
If during the net you hear a vessel that you wish to contact, when there is a break in the transmissions, call out "Contact" and the controller will ask for the contact station to come ahead with your transmission.
And if you have general information for the benefit of those who are listening to/communicating on the net, the controller will also ask for any "QSTs", usually after the daily weather forecast is completed. Again, same drill, call in with your suffix and pass along your information.
DON'T WORRY ABOUT GETTING TONGUE TIED - we all do from time to time and there are NO grades assigned regarding the precision of your communication!
Amigo and Southbound Nets Check In Protocols
Both the Amigo and Southbound Nets operate on Marine Band frequencies, meaning they are not Ham Nets, and the call sign to be used is different than with the ham nets. In the case of these nets, use the Radio Station Call Sign assigned to your vessel by the Federal Communications Commission (FCC), the Canadian equivalent, or that of your home country of registry. In my case it is WDD6759.
The check in protocols for these nets is largely the same as Sonrisa, with the principal difference being that when the net controller solicits a list of vessels wishing to check in, initially just give your vessel name (e.g., Nirvana). When the net controller calls for Nirvana to come ahead with your check in, again give your boat name, the radio call sign, and the rest of the information as is listed under the Sonrisa check in protocol.
General Comments
These nets are run by sailors just like you and me who are living aboard and cruising their vessels up and down the length and breadth of Mexico's Pacific waters. The daily net controllers are all volunteers aboard cruising vessels. Many of us have been cruising these waters for a number of years and can be an invaluable source of information and help to you, should the need arise, whatever it may be. The nets are managed, again by a volunteer net manager, who ensures that there is a net controller for each day - most controllers will control the net on the same day of the week, day in and day out, unless away from their boat ashore or in a marina where SSB radio communications can be problematic because of interference. We ask that you follow the protocol for two reasons: most of the controllers keep a running log of where vessels are when they check in, where they're bound and etc., which from time to time becomes very helpful when a family member ashore hasn't heard from a vessel and asks for help finding someone, or even more importantly, passing along urgent information to the vessel crew in the event of an emergency ashore. The second reason is that it helps expedite the check in process and minimizes the total time that all vessels have their radios tuned in to check in, hear weather information, and hear where fellow cruisers may be; during the Fall/Winter/Spring cruising months here in Mexico it is not uncommon to have thirty or more vessels check in to the nets every day.
Finally, these nets are FUN! It's fun to discover where one of your cruising buddy boats is if you have gone separate ways for a while. And if you wish to become a net controller, that too is made easy - we print/email the net controller's script which you merely have to read as you manage the day's proceedings. Key that mic and let us hear from you as you come down the Baja coast or while you are in Mexico... we'll be listening for you!!!
Article Contributed By:
Bob Davis
s/v Nirvana