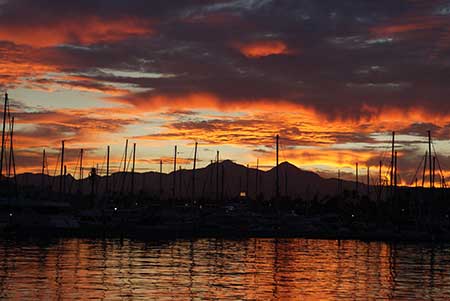 Paperwork
in La Paz
Permits, licenses, rules, forms, fees, and regulations. Yes, there are a few steps you must take to enter, leave and stay in La Paz with your vessel. Hopefully the following links will help to make the process easier for you. If you come across a procedure that has changed or was not explained correctly please email the club to help the next cruiser with the process.
If La Paz is your first port of entry in Mexico you will be need to check into the country

with immigration, API, customs and the Port Captain. Visit our Checking In and Out of La Paz page for details.

No paperwork is necessary to leave and enter the port of La Paz after your initial check in but you do need to call the Port Captain on channel 16 and report your vessels movement.

He will have you switch to channel 14 where he will commonly ask the name of your vessel, persons on board and where you are going to or coming from. Knowledge of a little Spanish will help here.

All vessels are required to have a Temporary Import Permit (TIP) no matter how long you intend to stay in the country.

This will require a trip to the office at the ferry terminal in Pichilingue. All of the information you will need can be obtained on our Temporary Import Permit page.
If you are at anchor in La Paz you will need to pay an anchor fee to API. If you are in a marina the marina covers this fee. API is easy to find on the Malecón. Instructions are on our API page.
A park pass is required to anchor and to go ashore at the islands of Espiritu Santo & Partida north of La Paz. These passes can be obtained in advance. The Park Passes page has all the details.
Anyone fishing on a boat in Mexico needs a fishing license and our Fishing Licenses & Rules page will explain it all.
Click here for the Mexico tourism boater's guide. The guide is not an official government document but may help you understand the basics of entering Mexico by sea. Some processes may be a little different in different areas.
Please comply with these rules, regulations, laws and procedures to help all of us maintain a good relationship with the Mexican officials.