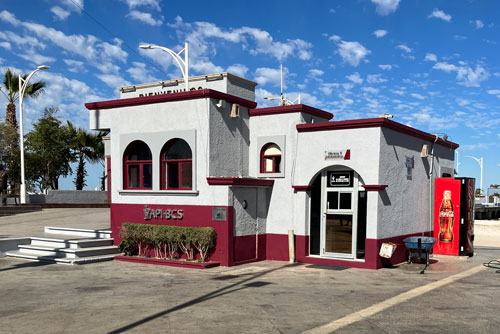 API Fees
In 1997 the administration of most ports in Baja California Sur, including La Paz, were turned over to a State owned company referred to as "API" (app-ee). API is responsible for maintaining lights and channel buoys in the harbor. Boats anchored in the La Paz bay must pay the port entry fee as well as the API anchoring fee. If you are in a marina they will take care of the API fees. Check with your marina regarding your responsibility.
Port Entry Fee
For vessels under 39 tons $80.64 pesos
20 tons to 499 tons $2.54 pesos per gross ton
API Anchoring Fee
Gross tons in pesos per day:
1 to 20 gross tons is $12.41 pesos per day
21 to 499 gross tons is $106.49 pesos per day
When you arrive in La Paz, go to the API office on the Malecón at the municipal pier downtown. They will ask you to estimate the length of your stay in the harbor and will charge you according to the days you estimate. If you stay longer, go back to the API office to pay the difference before checking out.
Boats in marinas do not pay the anchoring fee. Save your marina reciepts for the API official if you are questioned.