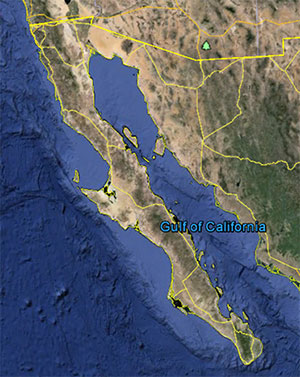 Baja Bash Thoughts
by Captain Mike Harris
The following thoughts on making the trip from La Paz to San Diego are the option of the author and are based on the experience of over 40 trips on the Pacific side of the Baja. These thoughts represent an average trip not the worst case. The comments are general and should serve as items you need to research and/or apply to your vessel.
Three Basic Trip Options:
1. Sailing - The Clipper Route
If you want to sail up the Baja coast this is the only productive way to do so. When you get to Lands End (Cabo) go close hauled on a starboard tack. Continue on that tack until you can switch to a port tack and lay San Diego. You could be many miles offshore.
2. Rhumb Line - Direct
This is the fastest way to make the trip and is what is most often used on professional deliveries. This is a motoring trip that runs a rhumb line from five miles off each major point. I have found that this course has puts us outside much of the local fishing activity but inside most of the major shipping routes. This course has you offshore at some points
3. Rhumb Line - Camping Out
This is the same as the Rhumb Line Direct option but allows for anchoring stops along the way. This option requires longer too complete than going non-stop. This should be a choice of the Captain.
General Information
There are pros and cons for each month you choose to make the trip north.
Going north during the heart of the hurricane season is not a good idea unless you have an extremely fast powerboat.
Check with your insurance agent about policy restrictions before choosing a trip option.
The Rhumb line course is 1,000 miles. The Clipper route is at least twice as long.
The trip north is nothing like the trip south. Everything that was in your favor coming down is against you on the way north (wind, waves and current).
The forward cabin of your vessel will be unusable.
Your bow will be underwater often. Green water not just spray.
Anything on deck that is not really secured will be washed away.
No weather prediction source will provide you with an accurate picture for the entire trip.
If there is any weakness in your vessel's systems they will surface en route.
Plan for 10 days if choosing the Rhumb Line-Direct route.
Your crew's schedule needs to match yours but in any case should be longer than ten days.
There are no logical crew exchange locations between Cabo and Ensenada.
The longer your schedule the greater your risk of being out in bad conditions.
Cabo is the last place where you can get any real/timely repairs until you reach Ensenada.
Vessel Preparation
Everything on deck must be secured.
No dinghies on davits even if cross tied. Secure on deck. Seats, oars, etc. stored below decks.
Kayaks.Store inside lifelines as far aft as possible.
Solar vent leak badly!!!
Anchors should be tied down/secured
Windless breakers should be off.
Do not have anything in the chain locker you do not want underwater
Almost all hatches leak when under green water.
Staysail stays and back stays. Keep then all attached to help reduce mast pumping when bashing.
Fuel Planning
Mag Bay is not a reasonable fuel stop.
The longest run between fuel stops is 400 miles.
If you normally make 6 knots when motoring plan on loosing at least 1 knot going north. I often do a fuel plan based on an average 3 knots. It is better to have some extra fuel on board when you get to Turtle Bay than to not make it.
Give a lot of thought to how you will store fuel on deck and how you will transfer it into the tank when underway.
Checking Out Of Mexico
This is easier to do in Ensenada than in La Paz. This is because all the needed offices you need to visit are in one location in Ensenada. Both of the major marinas in Ensenada will handle this process for you for a fee.
Checking Into the USA
Approach San Diego harbor from the safe water bouy to avoid the heavy kelp fields in the area. Go directly to the Customs Dock/Police Dock. Do not park on the red part of the Police Dock. The Captain should go to the Harbor Police Office area and find the computer stand. Using the computer or pay phone contact the Customs office and advise them that you have arrived and need an inspection. Officers will then be dispatched from the airport to do the inspection and check you into the country. You will need to have all the normal ship's papers, passports and $27.50 USD in cash for an entry permit.
Summary
This document is very general and was intended to help you think about want you need to do to make the bash with the minimum amount of hassle. There are many more details not addressed in this document. It is suggested that you do more discussion with those who have experience on these waters and build a strong plan for your crew and vessel before taking off to head north on the outside of the Baja.
---
February 2015:
We sailed down from Ensenada this last month and stopped/anchored in Asuncion and Abreojos. Both towns have new Pemex Stations with Diesel. The stations are within walking distance and the locals are more than happy to give you a ride. The best dinghy landing(s) for both locations are where the pangas launch. I hope this is helpful.

Suzanne Kenney
S/V JohnnyRook
---
Empty fuel jugs take up too much space on the boat so I purchase two 15 gallon plastic containers from the plastics store across from Lopez Marine in La Paz for about $20 each. They won't last long in the sun so I give them away to the kids working at the fuel dock when I get to the states.
Patsy Verhoeven
s/v Talion
---
Lobster Pots
One of the many hazards found on the outside of the Baja are lobster pots.  In recent years the pots have changed from a one float rig to three floats.  This makes it harder to figure out where the line running down to the pot/trap actually is located.  Generally the pots are located in 300 feet of water or less. 
We have developed a method to avoid the pots which has worked well for us for the last few years.  One person stands on the starboard side while the helmsperson watches the port side.  The only communication we use is "turn to port or turn to starboard".  We also add "turn to port hard or starboard hard" when needed.  Saying things like "there is a yellow one over there" only adds to the confusion.  It is important that the helmsperson communicates that they are turning before they do so the other person can see that you are not turning into danger.
Getting a pot off of your prop, shaft or rudder is not only a cold, wet job but can be very dangerous.  It is best to avoid the problem by being extra careful in areas where pots might be found.  I have also found that the actual lobster season has little to do with when you might encounter pots.  Keep a good watch and be careful.
Captain Mike Harris