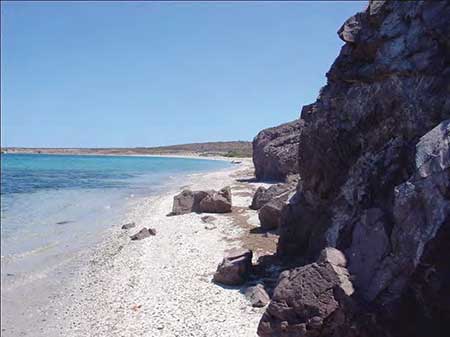 Sea of Cortez Tips
Provided by Al & Cathy Winn on the MV Oso Negro
On the following pages I have tried to give some tips and general guidelines on cruising that my wife and I have experienced in our travels in the Sea of Cortez. After reading these guidelines go to the Sea of Cortez Anchorages page describing some of the anchorages we visited while cruising the sea in the summer.
Be Prepared
I am not going to debate these, the forewarned are those who are prepared! Do not consider this a complete list!
Be sure you have sufficient FUEL, FOOD, and WATER for making the passages from La Paz to the Loreto Area, from Loreto to Mulege, from Mulege to Santa Rosalia, and from Santa Rosalia to Bay of Los Angles and points North.

Fuel, propane and water are available in La Paz, Escondido, Loreto, Mulege, Santa Rosalia, and Bay of Los Angeles. Propane in Bay of Los Angeles is exchange only, you CAN NOT refill your bottles. Diesel fuel is available in Mulege and Bay of Los Angeles by using jerry jugs. From Conception Bay you can hitch a ride into Mulege and get a cab back. In Bay of Los Angeles it is a mile walk to the Pemex on the edge of town.

Be sure you have good ground tackle. Only consider an ALL CHAIN rode and an anchor that is heavier than the one recommended for your vessel.
Have adequate first aid items aboard. In many places you will be more than a 100 miles from a town with decent medical care.
Dental care in Bay of Los Angeles is NOT normally available. See a dentist before you go there. Medical care in Bay of Los Angeles is minimal. You are on your own!
If you have a SSB transceiver or a receiver only, listen to the cruiser nets EVERY day for weather information. I recommend the Amigo Net, Sonrisa Net, and the Southbound Net. Find out what their frequencies are BEFORE you go.
If you don't have a SSB, talk to a fellow cruiser who does have one and get the weather information daily.
Have a good set of cruising guides for the sea of Cortez. Gerry Cunningham's is good, so is Charlie's charts, The Sea of Cortez by Shawn and Heather is excellent and has lots of way points. Only having ONE guide is not good.
Safety
Have a good first aid kit aboard. In many places you will be 100 miles or more from decent medical care.
Be sure to have an adequate supply of any prescription drugs that you need. Have enough for your entire voyage. DO NOT RELY ON BEING ABLE TO GET THEM in Loreto or Santa Rosalia.
Have lots of sun screen on board.
Bring your sun glasses.
Have bee sting remedies on board if you are allergic to them.
Have remedies for sting ray stings.
Weather
CHUBASCOS - From Isla San Francisco and on to the North there is a weather system that you need to be prepared for. Most of the time cruising in the summer in the sea of Cortez is pleasant with warm temperatures both air and water and light winds, however be aware of chubascos. A chubasco is a thunderstorm that travels across the Sea of Cortez from the mainland. They start over the Sierra Madre mountains on the mainland and build in the afternoon. Sometimes they sweep across the Sea of Cortez in the early evening or middle of the night. The winds in front of one of these storms can reach 30-40 knots and sometimes reach 50-60 knots. Chubascos occur much more often than hurricanes. The further North you travel the more likely you are to encounter one of these storms. Although they don't come all the way across the sea very often, you should be prepared to take down sun shades and even get underway should one of these waken you from a good sleep. If you see towering thunderheads and lightning to the East of you at sunset or just after, be prepared!
HURRICANES – We all hope we can avoid these intense summer storms but sometimes we cannot do that. Again this is not a complete list, but it is a start!

HAVE A HURRICANE PLAN! - Decide what you are going to do before there is a storm!
The best hurricane holes in the Sea of Cortez are La Paz (either Costa Baja or Palmira marinas), Escondido (Inner Harbor), Puerto Don Juan (5 miles from Bay of Los Angeles), Puerto Willard (about 45-50 miles North of Refugio).
Prepare well before the storm. Take down ALL sails, dodgers, solar panels and sun shades. Anything that you even THINK might get blown away WILL get blown away. Use adequate chafe gear, have some swim goggles available so you can see during the storm.
Talk to other cruisers near you who have weathered one of these storms and ASK THEIR ADVICE!
Escondido can hold many boats on storm rodes (300+ feet of chain), Don Juan can hold only about 30 boats on storm rode. I'm not sure about Willard.
If there are several boats in your anchorage, have a meeting and discuss what everyone is going to do, it is not good if one guy has 150 feet out and others have 300. During the storm you might not be able to hear the VHF, many times during the storm you will not be able to see the other boats!
Last but NOT LEAST is don't think that a marina is the safest place. What condition is the marina in? What direction will the swells come from? How high are the pilings? YOU WILL NOT BE ABLE TO GET OUT OF A MARINA ONCE THE STORM STARTS!
YOU CAN NOT PREPARE TOO MUCH FOR A HURRICANE!
Insects
BEES – Many of the islands have an abundance of bees that live on them. Because of the dry climate here these bees are constantly looking for WATER. Don't provide water for them on your bow, this will only bring more. We have had good luck using mosquito coils in the cockpit to help repel the bees. Be careful though and don't start a fire!
MOSQUITOS – Because of the dry climate there are not many mosquitoes, but there are a few. Again, the mosquito coils work well.
NO-SEE-UMS – These pesky critters are small biting gnats. Regular mosquito screen will NOT stop them! Their bite causes a bump that festers with puss and the sting can last for weeks. Mosquito coils help but are not the complete answer if there is any.
Agua Malies
Mexicans call anything that is bad that lives in the water an Agua Mali.
JELLY FISH (STRING OF PEARLS, ETC) – The best thing is to get a lycra suit made for you here in La Paz. If they are present, wear it.
STING RAYS – Sting Rays are bottom feeders and many places have an abundance of them. The best advice is to shuffle your feet while wadeing and don't get stung. Big help, huh?
Money
How much you think you need is up to you but here are some guidelines:
Money is available for withdrawal from banks and ATMs in La Paz, Loreto, Mulege, and Santa Rosalia. THERE ARE NO BANKS or ATMs in Bay of Los Angeles.
Depending on your life style and how much you eat, if you have, once you leave Santa Rosalia, $2,000 US in pesos for a couple, it should be more than enough for 2-3 months in the Bay of Los Angeles area.
Radio Procedures
Again I am not going to debate these. These are a guide.
If you have talked on a SSB or been in the military you probably already know these but here are some tips.
USE THE HAILING CHANNEL to initiate a contact with another vessel, NO NOT USE THE HAILING CHANNEL for general talk or chat. In La Paz, use VHF channel 22 to hail, at sea use VHF channel 16, in the Bay of Los Angeles area use VHF channel 68.
When hailing another vessel, state the other vessel's name of call sign TWICE ONLY! And then state your vessel's name or call sign ONCE! Such as, "Proud Mary, Proud Mary this is Justine calling!". You do not have to say the words "OVER" unless the conditions are very poor and you do not think they will know when you are done transmitting. Once you make your attempt to contact another vessel TWICE, wait at least 1 minute BEFORE trying again. Do not tie up the hailing channel with incessant calls that no one responds to.
Once you contact another vessel on the hailing channel ONE of you need to select another channel to talk on, the OTHER person should always repeat the channel being switched to so there is not confusion.
Do not use citizen band jargon such as BREAK – BREAK, 10-4, Flip-Flop or other junk like this.
If your vessel is in trouble, DO NOT USE THE WORDS "MAY-DAY" unless someone's life is in IMMINENT DANGER OF BEING LOST!! If you think your vessel is in danger or to signal other dangerous situations use the terms "PAN – PAN".
If someone's life IS in danger be prepared to give anyone who responds a lot of information. Such as the nature of the life threatening situation, the person's name, age, medical condition, whether they are on medication, what has been done so far to help them, the name of the vessel, the description of the vessel, the place it left from and where it is going to, the vessel's current position as close as you can give it to the Latitude degrees and minute and Longitude degrees and minute, the current condition of the vessel, is it under power or drifting, the names of everyone on board, how many are on board and a lot more. Be aware that if you call a Mayday and either the Mexican navy or the US Coast Guard responds you may be asked to abandon your vessel. Their job is not to save your vessel!
Now that I have scared you, go to the Sea of Cortez Anchorages page describing some of the anchorages you can visit while cruising the sea in the summer.
I have used some drawings of anchorages that were originally published in Gerry Cunningham's chart packages. Don't use this guide as a substitute for his fine books on the Sea of Cortez, his books cover many, many more anchorages than the few we have been to. This is a copyright infringement but I think his wife would OK it in this case.
You should note that any decision made by you using this guide is solely your responsibility. This is true whether you use Charlie's Charts, Gerry Cunningham's books and charts, this guide, or any other book or chart of the Sea of Cortez.
I have only covered anchorages that we have actually stopped at. That way you know that the information is fairly accurate. All drawings are for reference only and should not be used for navigation.

Al & Cathy Winn
M/V Oso Negro
Currently in La Paz, BCS