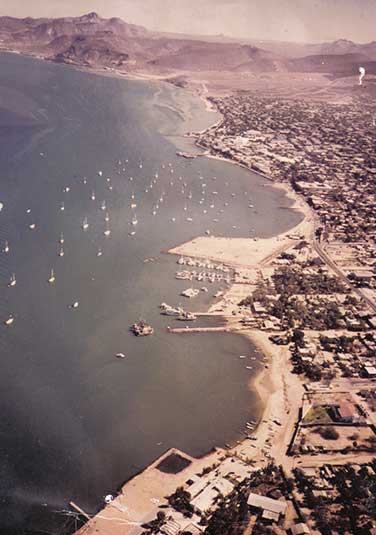 Club Cruceros History
Club Cruceros was started in March of 1988 by 162 cruisers. Click to read a fascinating story of the beginning of the Club as remembered by one of our founders, Marta Sutton.
Marina de La Paz
Without them Club Cruceros would not be here. Their gracious giving of their time, the Clubhouse, the Vista Room, Club WIFI and the list goes on. Thanks to our honorary life members Mac, Mary and Neil Schroyer. Click here to read their history and see some fabulous old photos
The Early Years
We ran across some newspaper clippings and photos from the first events of Club Cruceros. From parties to meetings to regattas...some of these articles are a riot. What a great group of fun people our members are!
Community Involvement and Charities
It's not all fun and games. Our Club Charter obliges members to "...5. Establish and maintain good relations with the local officials and community leaders. 6. Be involved in charitable programs and spearhead special events..."
With a passion for the local community club members were as involved then as they are today.
From our very beginnings Subasta has been a big part of Club Cruceros history. We all miss the opportunity to help the charity FANLAP through Subasta. It was a lot of fun and a lot of work. Read all about it here and don't miss the links to the many, many photos in our photo gallery.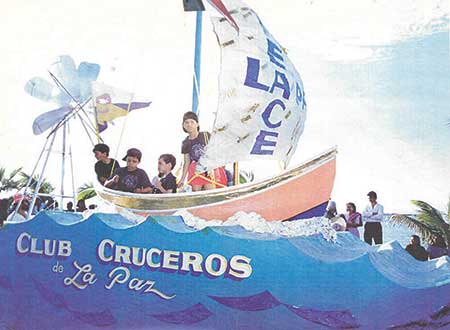 Carnaval
Participating in Carnaval has historically been a fun and rewarding way for the Club and its members to become more involved in the local community. Some years the club members walked the parade route with a banner and some years elaborate floats were created.
Clubhouse History
The Board

From left to right: Jake Rice (Rear Commodore), Jim (can't remember his last name), Tom Ireton (Treasurer) Carolyn (can't remember her last name - she was commodore and resigned after a few months and Jake Rice took over) , Judy Peterson (Board Member in charge of Charity Committee) and I can't remember the name of the secretary, unfortunately. 1999 Photo & info contributed by Judy Peterson

Stories

Here are a couple articles that may be of interest:
---
Help

Does this bring any stories to mind? Have photos of past Club activities? Can you fill in any blanks for us? Just email the club at crucerosdelapaz@gmail.com!