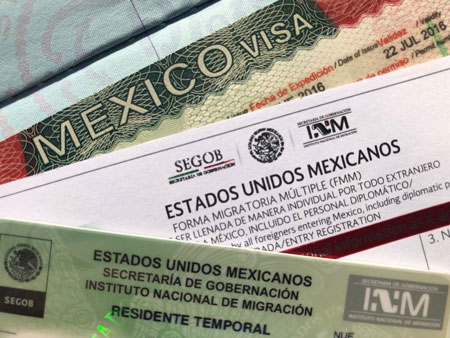 Immigration
Applying for Mexican Visas
The Immigration Office in La Paz is located on the 5th of February between Forjadores and Durango. They are quite helpful and English is spoken. The office hours are 9 am to 1 pm.
You may choose to apply for your visa in person, or you may hire a representative to advise you, make the application on your behalf, and do all of the paperwork.
If you are applying for temporary or permanent immigrated status, upon acceptance you will receive a plastic card that looks like a driver's license. This card enables you to pass through Mexico's borders as if you were a Mexican national.
Vistante – Visitor Permit for Short Term Visits
The 'Visitante' permit is intended for short term visitors to Mexico. Visitor's permits (or tourist visas) are issued when you arrive in Mexico by completing a  Forma Migratoria Multiple (FMM) available from your airline or at ports of entry. The visitor permit is valid for up to 180 days and cannot be renewed.  Upon its expiration you will need to leave the country.  There is a fee of about US $30 for this permit. The fee is included in the price if your airline flight (under taxes and fees). If you arrive by road or by boat you must visit an immigration office, fill out the FMM and pay for the Visitor Permit. Please be aware that crew flying into Mexico via Tijuana and walking across the CMX bridge do need to stop into immigration to obtain their visitor's permit.
Visa de Residente Temporal – Temporary Resident Visa
The Temporary Resident Visa is intended for people who wish to live in Mexico for more than 6 months and up to 4 years. The Temporary Resident Visa is a renewable long term permit which gives non-immigrant temporary residency status, can give work permissions, and allows unlimited entries to and exits from Mexico.
One of the criteria that the Mexican authorities require for the issuance of a Temporary Resident Visa is that the applicant prove that they have "sufficient funds to sustain themselves while in Mexico" and/or a proven steady income.
The Temporary Resident Visa cannot be issued in Mexico; you must apply in your home country of residence. There are two exceptions to this:
If you have close family in Mexico
If you apply for residency on humanitarian grounds, then you are able to change your status from visitor to resident without leaving Mexico
When applied for in your home country they process and preapprove the application. When you arrive in Mexico you have to register at your local immigration office within 30 days to acquire your Visa.
Once applied for and granted, the Temporary Resident Visa may issued for up to 4 years (or yearly, with annual renewals required in Mexico) and after this four year period, it cannot be renewed: at the end of the four year period you must apply for a Permanent Resident Visa or leave the country.
Visa de Residente Permanente – Permanent Resident Visa
The Permanent Resident Visa is intended for people seeking permanent residency status in Mexico or those who may seek eventual Mexican Citizenship.
To apply for and be granted this visa, the applicants must:
Have certain family connections in Mexico, or
Apply for retirement status and prove they have sufficient monthly income (or substantial assets) to support themselves, or
Have 4 years of regular status as Temporary Resident (2 years if legally married to a Mexican spouse or permanent resident) or
Be granted residency on humanitarian grounds
If your goal is to seek long-term residency in Mexico, or to become a Mexican Citizen, you should apply for a Permanent Resident Visa.
Mexican Citizenship
Acquiring Mexican Citizenship (naturalization) is an involved process. As a minimum you must have applied for, and been granted, permanent resident status, although exceptions to this rule may apply, depending upon a variety of circumstances: marriage to a Mexican national, for example, might enable naturalization with a shorter qualification period.
You will be asked to undertake an exam, which you must pass, in order to acquire naturalization/citizenship. The examination is of a "multiple choice" type, comprises of some fifteen questions, and is not hard—although you will need a basic grasp of the  Spanish language  to pass it.