Hurricane History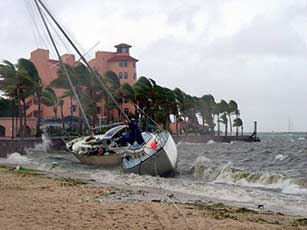 Hurricanes Marty & Ignacio
In 2003 La Paz was hit with two significant hurricanes. First category 2 Hurricane Ignacio with 80 mile an hour winds battered La Paz. Then one month later another category 2 Hurricane Marty hit the area with sustained winds of 85 mph and gusts over 100. Due to Marty's wind direction the heaviest damage to the fleet was done to the marinas and the boats in the marinas. Our photo gallery shows images of the damage from both storms. Here is a link to a video of Hurricane Marty at Marina de La Paz.
Hurricane John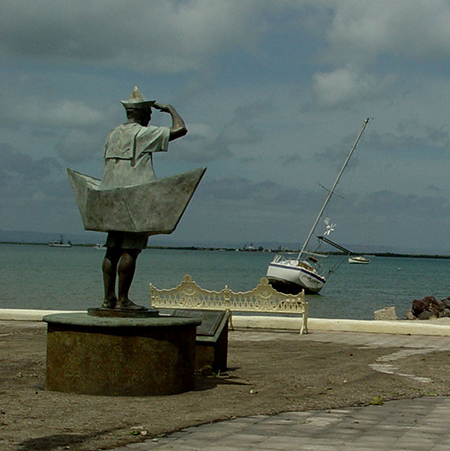 Hurricane John hit the Baja Peninsula in September of 2006 with 110 mile per hour winds. In La Paz the hurricane downed so many power poles authorities cut off the power supply to the city to prevent electrocutions from downed wires. Strong winds downed trees and heavy rainfall totaling more than 20  inches in isolated areas  resulted in flooding, closing many roads in addition to the airport in La Paz.    We have a few photos in our photo gallery. Here is a link to a video of Hurricane John.
Hurricane Odile
September 14, 2014 brought Hurricane Odile. Odile made landfall in Cabo San Lucas with 125 mile an hour winds. Due to the rains and wind, Odile brought widespread damage to the Baja California Peninsula. Three of our members perished in the hurricane. This time the damaging winds came from the opposite direction of Marty's winds. The damage and loss to the fleet was primarily boats at anchor rather than boats in marinas.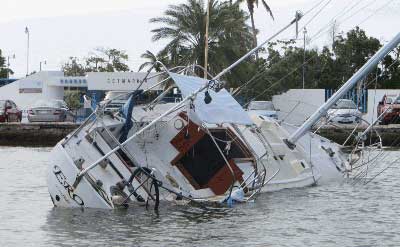 Commodore and Member Reports:
---
Help
Does this bring any stories to mind? Have photos of past Club activities? Can you fill in any blanks for us? Just email the club at crucerosdelapaz@gmail.com!