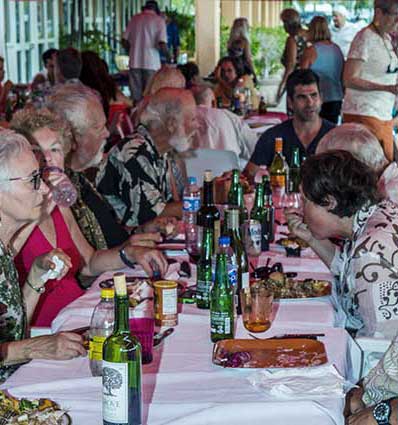 Thanksgiving Dinner
Held Annually on Thanksgiving Afternoon
The Thanksgiving Dinner has been an iconic event at Club Cruceros for many years. At one time upwards of 300 people have enjoyed their holiday feast with us.
Marina Palmira provides the space for the event as well as the tables, tents and chairs. It is an all volunteer production where club members and guests pitch in to sell tickets, set up, cook the turkeys, make the gravy, get it all to the marina, and then cleanup the mess. Milton and Susu Sanders allow us the use of the Casabuena kitchen to do the cooking.
The cost is only 100 pesos per person. The club provides the turkeys and the cruisers each bring a side dish. In an effort to have better control on the amount of waste and to be sure everyone gets plenty of turkey the event is limited to150 people. Listen to the morning net on VHF channel 22 for where you can purchase your ticket. It fills up fast so make your reservations early. Beverages are BYO and alcoholic beverages are allowed.
Check out the photos of the more recent past Thanksgiving Dinners at the Club Cruceros photo gallery:
See you there next year!
Listen to the morning VHF net at 8 am on channel 22 for up to date information just prior to the event.