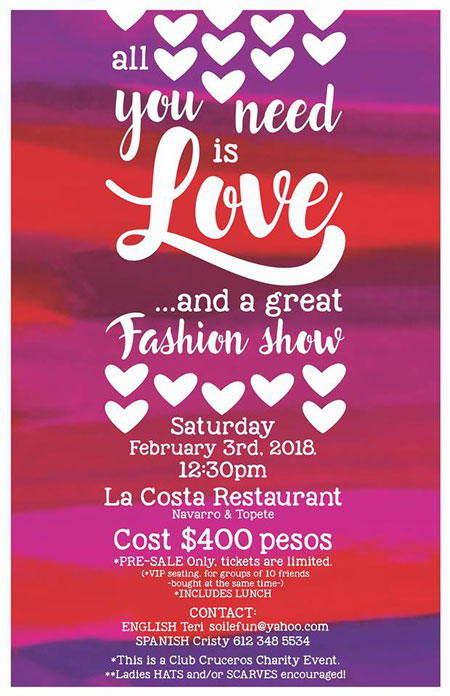 Charity Fashion Show
Held Annually Early in the Year
All You Need is Love... and a Great Fashion Show!
The third annual Club Cruceros Fashion Show will be held on February 3, 2018 at La Costa Restaurant.
This will be was THE event of the season, with a chance to get a little dressed up and have a fun filled day with Club Cruceros.
We will have models from the cruising community. Ladies and gentlemen are both invited, hats and scarves were encouraged. There will be vendor tables with locally produced items. The cost is 400 pesos per person and includes a fabulous luncheon.

This charity event provides much needed funds to enhance the Club Cruceros charity efforts. Click here to review some of the charities supported by the club. In 2018 all proceeds will benefit a project involving the Valley of Guadalupe (Ville de Guadalupe) church and school community in La Paz. The proceeds will provide the raw materials for a much needed library addition.
Here are some great photos of the 2017 and some of the 2016 Fashion Show in the Club Cruceros photo gallery.
See you there next year!
Listen to the morning VHF net at 8 am on channel 22 for up to date information just prior to the event.